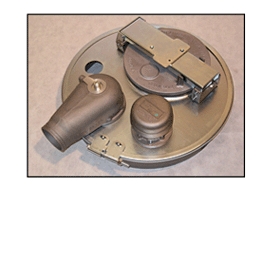 DN 500 GALVANIZED MILD STEEL MANHOLE COVER
Description: carbon steel manhole cover compliant to international standards A.D.R. with test pressure 300 mbar. Weld ring:available in carbon steel or light aluminium alloy fixed by wiring ring, height 90 – 150 mm.
Fill hole cover: in light Aluminium alloy , pressure balanced design with galvanized iron quick closure.
The fill hole cover is kept in its closed position by a spring, that enables the cover to automatically open at 300 mbar to vent the over-pressure (126 cm2 equivalent to Ø 125 (5") cross section).
Fittings: internal and external breather vents, vapour recovery valve, electronic probe, dipstick.
COMPLIANT TO THE RELEVANT STANDARDS